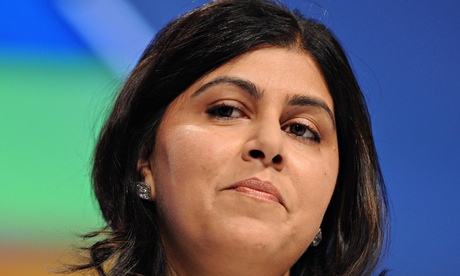 Sayeeda Warsi, who resigned from the cabinet on Tuesday Photograph: Stefan Rousseau/PA
At the candlelight vigil marking Britain's entry into the first world war in Westminster Abbey on Monday night, Sayeeda Warsi was prominent. She was one of the four people who snuffed out a candle and pitched the congregation of dignitaries and politicians into an emblematic darkness. It was fitting that her last action as a government minister was performed partly as a representative of Muslim Britain. Her resignation less than 12 hours later was also, in part, the act of a representative of Muslim Britain – although many non-Muslims will endorse her criticisms of British foreign policy in Gaza.
Lady Warsi is making some very serious criticisms of that policy. Her heartfelt attack includes an indictment of its understanding of where Britain's national interest lies, a "morally indefensible" attitude to Israel's bombardment, particularly the failure to condemn it as disproportionate, the failure to halt arms sales, and the attempt to head off a referral of Israel – and Hamas – to the international criminal court. She warned that government policy would fuel anger and resentment in the Muslim community. Her critics, of whom she has quite a crowd in the higher reaches of the Tory party, immediately accused her of resigning in a fit of self-indulgence. If that is their only rebuttal, it merely makes her case. It is 11 years since the last ministerial resignation on a matter of policy, when Clare Short became the fourth minister, after Robin Cook, Philip Hunt and John Denham, to leave Tony Blair's government in protest at the Iraq war. Like Lady Warsi, Ms Short was accused of self-indulgence too.
Lady Warsi's departure would seem to mark the end of a distinct era in Tory foreign policy. Spurred on by guilt at the Major government's inaction during genocides in Bosnia and Rwanda, an activist approach to human rights was given its head in this coalition government, led by William Hague. He focused much of his energy on a campaign against sexual violence in conflict, and was an outspoken supporter of international humanitarian law. However, he did not support a Palestinian appeal to the international criminal court. Lady Warsi, minister for the ICC, found that unacceptable. But the strength of her relationship with the foreign secretary kept her on board until, thanks to the arrival of Phil Hammond, who shows little interest in the human-rights agenda, the attraction of the job was terminally diminished. The departure of Mr Hague and Lady Warsi, coupled with evidence of the fateful consequences of the intervention in Libya, seems to spell an end to the brief flowering of a Conservative human-rights-first approach and a reversion to a more traditional foreign policy built around narrowly defined national interests.
These are important matters, and she is not alone in her party in strongly criticising the handling of the Gaza crisis. Yet it is what her resignation says about her party's openness to diverse opinion that will be most damaging in the long run. Lady Warsi was handpicked as a symbol of Tory readiness to modernise. After one unsuccessful general election campaign she was accelerated into the political frontline via the House of Lords, and after 2010 into the cabinet as the first Muslim ever to sit as a cabinet minister. While it is far from a homogenous group, as a Yorkshire-born daughter of a migrant from Pakistan, she is well connected with a large and important segment of British Muslim opinion. But, as her frustrated tweets over the past fortnight illustrated, she felt her views were being increasingly ignored. It is an indication of Mr Cameron's clumsy party management that she was left in a job where she was so likely to come into conflict with him. Her departure will leave an indelible impression that the woman who shared Michael Gove's outrage at the dominance of Etonians in her party has been forced out by a clique of posh white men. It is rumoured that she kept a diary and there are fears of a kind of revenge publication. It is hard to imagine that there is much more she can do to embarrass her party over either women or minorities.
• This article was amended on 7 August 2014. An earlier version said Clare Short was the third minister to leave Tony Blair's government in protest at the Iraq war. She was the fourth.
Gaza crisis: UK government policy falling into disarray
Clegg demands suspension of arms export licences to Israel after Warsi resigns saying Cameron has lost moral authority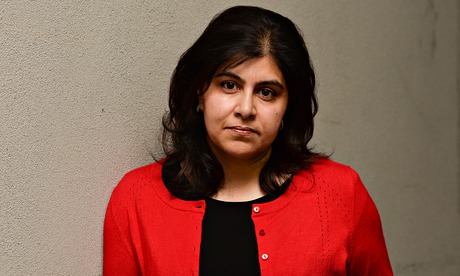 The government's policy towards the Israeli incursion into Gaza was in danger of falling apart on Tuesday night in the wake of the surprise resignation of the Foreign Office minister Sayeeda Warsi and a demand by Nick Clegg that Britain immediately suspend arms export licences to Israel.
Lady Warsi said the prime minister had lost moral authority, undermined the national interest and deprived Britain of its historic role as an honest broker in the Middle East by refusing to condemn the aggressive Israeli response to the Hamas rocket attacks as disproportionate.
In her strongly worded resignation letter, whose morning publication came as a surprise to No 10, Warsi warned that "our approach and language during the current crisis in Gaza is morally indefensible [and] is not in Britain's national interest".
She also complained that Cameron's response may become "a basis for radicalisation [which] could have consequences for us for years to come".
Her departure came after internal argument inside the National Security Council over Cameron's refusal to condemn the aggressive Israeli response to the Hamas rocket attacks.
British ministers have condemned the outcome of the Israeli bombings as intolerable and appalling, but Cameron has barred ministers from describing the Israeli bombings as disproportionate, and refused to attribute final blame prematurely even for some of the attacks on UN schools in Gaza.
Warsi's departure exacerbated coalition tensions over Gaza, as Clegg urged an immediate suspension of arms export licences, saying that Israel had breached the conditions. He said the suspension should remain in force until agreement has been reached across the government on any permanent revocation in the coming days.
Ministers agreed a review of the licences last week, but Clegg has decided to ratchet up the pressure, saying: "I believe the actions of the Israeli military, overstepping the mark in Gaza, breach the conditions of those export licences and that's why we want to see them suspended pending a wider review of whether they should be revoked more permanently in the long run."
Revealing he has been putting pressure on his Conservative colleagues for a suspension of the licences rather than a review, he said: "I believe we will be able to make an announcement on this, finally, very shortly. It's very important that in response to clearly what appears to be disproportionate military action of Israel in Gaza, we should be suspending the arms export licences that presently exist."
Warsi's departure also prompted a vicious round of briefing against her by some Tories, condemning her variously as egotistical, incompetent, a Hamas sympathiser and motivated by pique at her failure to be promoted in the last reshuffle.
However, Downing Street, aware that she has the potential to cause lethal damage if she broadens her attack on the Cameron circle, as her resignation letter threatened, distanced itself from such briefings. Cameron, in his reply to her resignation letter, lavished praise on her and urged her to raise any issues with him in the future. It is known she has kept copious diaries, and officials fear she may claim in retrospect she was used as a token Muslim.
Cameron wrote: "I very much regret that we were not able to speak about your decision beforehand." He added: "I understand your strength of feeling on the current crisis in the Middle East – the situation in Gaza is intolerable. Our policy has always been consistently clear: we support a negotiated two-state solution as the only way to resolve this conflict once and for all and to allow Israelis and Palestinians to live safely in peace."
The departure of the first British Muslim cabinet minister is a major blow for Cameron, potentially weakening Conservative support among ethnic minorities in marginal seats, lifting the lid on the divisions on the Tory backbenches over the scale of Israel's bombing, and apparently confirming to the party's centre-left that traditional support for international human rights has been severely eroded by ministerial changes. "It's now a Daily Mail administration," complained one recently sacked Conservative minister.
Warsi, as senior foreign office minister, was responsible for British support for international human rights law and in her resignation letter bemoaned the departure in the previous reshuffle of Kenneth Clarke, and the former attorney general Dominic Grieve.
Warsi spoke at length to the new foreign secretary, Philip Hammond, on Sunday and appears to have held back from resigning on Monday because of the first world war commemorations.
Instead she resigned via Twitter just after 9am on Tuesday, coincidentally about three hours after a three-day ceasefire had come into force.
Both Hammond and the chancellor, George Osborne, highlighted the timing of her announcement. Osborne described her decision to quit as "disappointing and frankly unnecessary", while Hammond said he was slightly surprised she had quit just as weeks of behind-the-scenes diplomacy was bearing fruit with the ceasefire.
But Warsi's resignation broke a dam of criticism of Israel in the Conservative party. Boris Johnson, the London mayor often touted as a future leadership contender, condemned Israel with the words Cameron has declined to deploy.
"I believe in a two-state solution. I cannot for the life of me see how this helps us get there. I think that it is disproportionate, I think it is ugly, and it is tragic. And I don't think it will do us any good in the long run," Johnson said.